On the occasion of the 79th Venice International Film Festival, Anna Fendi, second of the renowned five Fendi sisters, will be awarded with the Women in Cinema Award at the famous Hotel Excelsior Venice September 6, 2022.
Anna Fendi and Claudia Conte
This Prize is finally returning with a very rich fifth edition that will be an enjoyable surprise for all the participants. Born from an idea of ​​Angela Prudenzi, Claudia Conte and Cristina Scognamillo, this Award is dedicated to all the women victims of violence and to all people who are suffering because of civil wars, various kinds of discriminations, inequality and poverty.
With this Prize, the Academy of juries also wants to underline the strong link that unites cinema and fashion. House of Fendi has always collaborated with the greatest movie directors and costume designers and contributed to creating memorable, internationally successful films. Anna Fendi, with her four sisters, Paola, Franca, Carla and Alda, has dedicated all her life to fashion. She has always affirmed: "fashion is the expression of the life we ​​live and magnifying glass of what happens in it. The same definition perfectly suits cinema, one of man's most fascinating inventions."
Anna and her sisters grew up in the golden years of Italian cinema, and it was natural for them to dress the Cinema stars. Among the masterpieces in which Fendi collaborated, we recall: Conversation Piece, a 1974 drama film with Silvana Mangano; The Innocent, 1976; Ludwig, 1973 with Helmut Berger – all directed by the illustrious Italian director Luchino Visconti; the Lady of the Camellias, 1981, directed by Mauro Bolognini with Isabelle Huppert; Once Upon a Time in America, 1983 directed by Sergio Leone; And the Ship sails on, 1983 directed by Federico Fellini; The Godfather, 1990 directed by Francis Ford Coppola; The Age of Innocence, 1993 directed by Martin Scorsese with Michelle Pfeiffer; Evita, 1996 directed by Alan Parker with Madonna; Titus directed by Julie Taymor, starring Anthony Hopkins and Jessica Lange, 1999; the Royal Tenenbaums, 2001, American comedy-drama film directed by Wes Anderson; I am love, 2009 directed by Luca Guadagnino. The profound link between cinema and fashion is emphasized in other memorable titles such as The Devil Wears Prada, where Meryl Streep, as Miranda of the fashion magazine Runway, is dressed in some garments made expressly for her by Fendi, and Sex and the City where Sarah Jessica Parker plays Carrie Bradshaw and screams "It's not a bag! It's a Fendi baguette", holding the iconic purple bag designed for her by Silvia Venturini Fendi, third generation of the Fendi dynasty. The Award will be presented by the actress and human rights activist Claudia Conte who is also the Award's testimonial.
During the ceremony, she will wear a Fendi outfit and Alessio Brocceri's jewelry.
Alessio Brocceri Jewelry designer's ring
Claudia is a dynamic woman engaged in cultural activities in support of suffering people. She promotes women's talents and gender parity and fights against violations of humanitarian laws.
No wonder the fifth edition of WICA is dedicated to the Turkish journalist and producer Cigdem Mater, known on the festival circuit for backing arthouse titles such as the 2013 Venice competition drama "Sivas".  She was one of 13 civil society figures arrested in November 2018 by the Turkish government in connection to 2013 Gezi Park protests. Another Award will be granted to the Ukrainian actress Darya Tregubova, in solidarity with all the Ukrainian women that are enduring the horror of the war.
There is great expectation for the Award that will be given to Malika Ayane, a famous Italian musician and singer.
Malika Ayane
Women in Cinema Award obtained the Italian Ministry of Culture Patronage. WICA's logo was conceived by Giuseppe Cacace also known as Rueto, while the prizes were created by the Italian Goldsmith Maestro Michele Affidato.  The Jewelry journalist Laura Astrologo Porché is the Jewelry Counselor of Claudia Conte.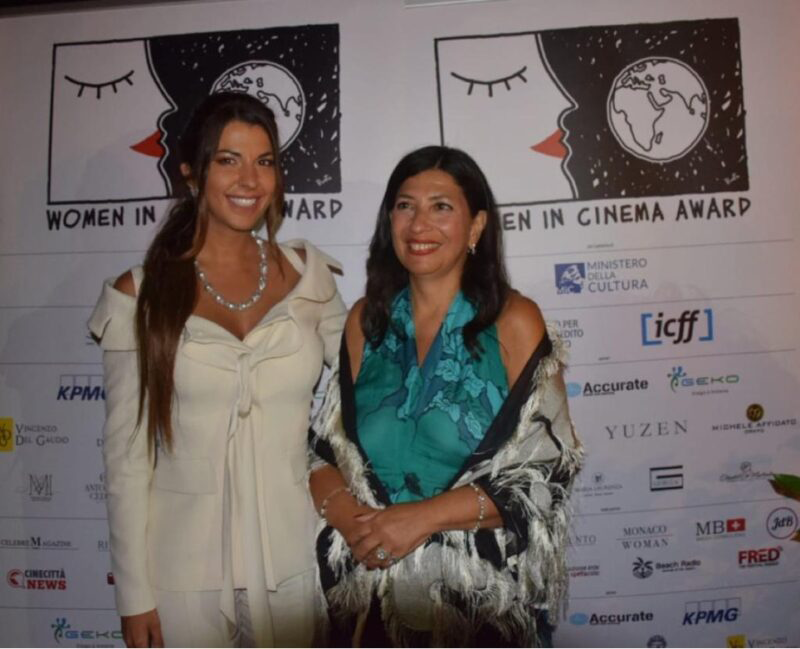 Claudia Conte and Laura Astrologo Porché
WiCA wishes to thank its partners: Accurate Srl – Iervolino & Lady Bacardi Entertainment (ILBE S.p.A.) – Associazione Cultura Italiae – Alessio Brocceri Jewelry Designer – Dinouche di Refeek Antoun – ICE (Independent Celebrities Endorsements).
Technical Partner: Custo x Skin Technology – Claudio De Martino International Hair Stylist – Hollywood Communication.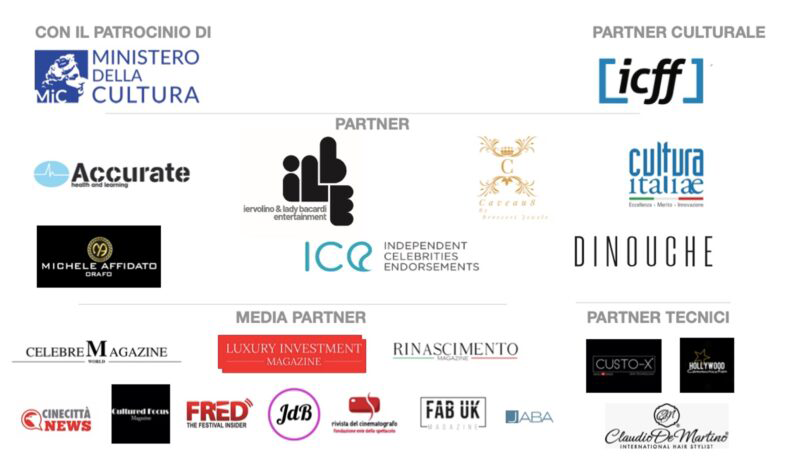 Media Partners: Celebre Magazine World – Rinascimento Magazine – Luxury Investment Magazine – Journal des Bijoux – Cinecittanews.it – Cultured Focus Magazine – FRED Film Radio – Rivista del Cinematografo | Fondazione Ente dello Spettacolo – FabUk-Magazine – JABA.
Cultural Partner of WiCA: ICFF (Italian Contemporary Film Festival).
Only a few days to this great event. Don't miss it.
Article edit by Laura Astrologo Porché
Instagram: @journaldesbijoux